Rosabeth Moss Kanter

[1943-]
The work of Rosabeth Moss Kanter has significantly altered the business world and the way many organizations treat their employees. Although she began her career as a sociologist, she is currently a professor at Harvard Business School.
How has her career evolved and what achievements does she have? Get to know about Kanter's life in this blog.
I. Rosabeth Moss Kanter biography
Rosabeth Moss Kanter is an expert in strategy, innovation, and leadership for change and holds the Ernest L. Arbuckle Professorship at Harvard Business School. Through her teaching, writing, and direct consultation with major corporations, governments, and start-up ventures, she empowers leaders around the world.
1. Who is Rosabeth Moss Kanter?
Rosabeth Moss Kanter (1943) was born in Cleveland, Ohio, to Helen (Smolen) Moss, a school teacher, and Nelson Nathan Moss, an attorney and small business owner. She has a younger sister, Myra. Rosabeth Moss Kanter describes her childhood as "gentle" and ambitious herself, having written a novel and entered essay contests as early as 11 years old.
She graduated from Cleveland High School in 1960 and then went on to study sociology and English literature at Bryn Mawr College, graduating magna cum laude in 1964. The following year, she received a master's degree in sociology and five 1967, PhD from the University of Michigan. Her thesis was on the utopian communes of the 19th century. Although Kanter later decided to pursue a career in business research, training as a sociologist informed her thinking and work. next.
2. Rosabeth Moss Kanter early career
Before joining the Harvard School School faculty, Kanter was an assistant professor of sociology at Brandeis University from 1967 to 1973 and again from 1974 to 1977, visiting associate professor of administration at Harvard University, and also a teacher. Sociology professor at Yale University from 1977 to 1986. She served as editor of the Harvard Business Review from 1989 to 1992, the past school to organize work. She is the President and Director of Harvard University's Advanced Leadership Initiative.
Kanter's first work as a sociologist focused on utopian communities and communes in the United States. In her 1972 book, Commitment & Communities: Communities and Utopias from a Sociological Perspective, she argues that the internal characteristics of a utopian community lead to success or failure. Rosabeth Moss Kanter defines a "successful" commune as one that lasts longer than thirty-three years. After surveying ninety-one communal projects from 1780 to 1860, she determined that commune groups such as Shakers, Amana and Oneida were among the most successful of the nineteenth century. To account for their success, Kanter notes the rituals and clear boundaries of these groups, as well as the "commitment mechanisms" that utopians use: sacrifice, investment, renunciation, communion, mortgage and transcendence. She concluded that the more utopian communities demanded of its members, the more cohesive and enduring it became.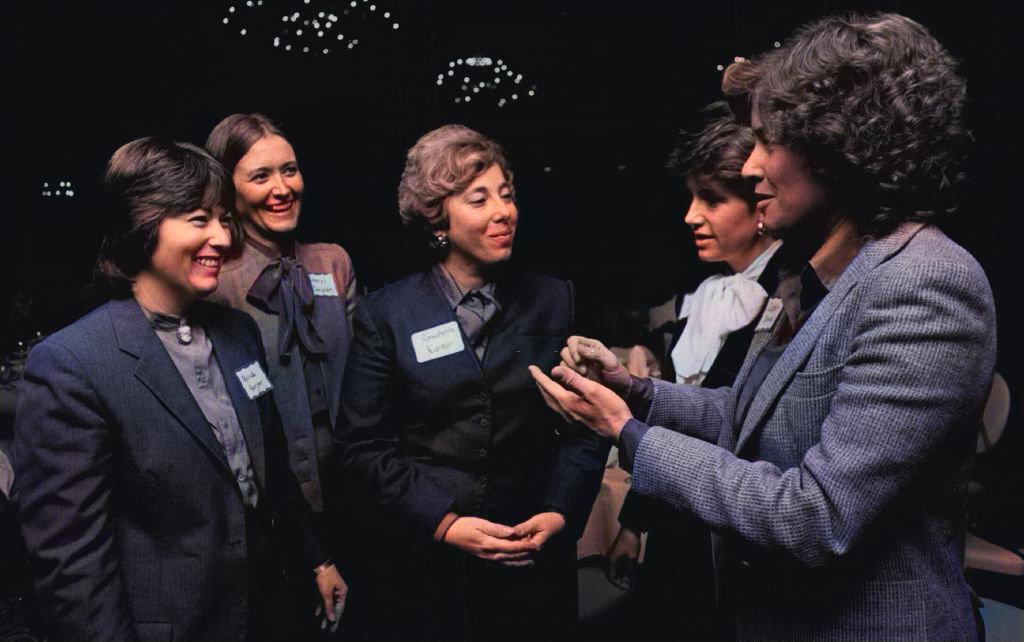 Kanter has written numerous books on business management techniques , especially change management ; she also has a regular column at the Miami Herald. She is known for her 1977 study of tokenism where a minority within a group can affect one's performance due to increased visibility and pressure. The Corporation's Study of Men and Women is a classic in critical management research, bureaucratic analysis, and gender research.
3. Rosabeth Moss Kanter Contribution
Rosabeth Moss Kanter, a professor at Harvard Business School, frequently writes about "pacesetters," a term that she not only contributed to the definition of but also came to personify through her own pacesetting achievements. The first academic woman to become a management guru and to be frequently cited and quoted was Professor Kanter. She was also among the first to champion and inform business leaders about the significance of "empowerment," "employee participation," and "change management" as a thinker and consultant.
II. Rosabeth Moss Kanter Major Works
1. Kanter's Theory on Structural Empowerment
Kanter's theory of structural empowerment places more emphasis on the organizational structures than the personal characteristics of the individual. According to Rosabeth Moss Kanter, a leader's power will increase by empowering others, and as a result, leaders will experience improved organizational performance. Kanter further contends that with the right resources—tools, information, and support—people will develop their skill sets, become better decision-makers, and accomplish more overall—benefiting the organization as a whole.
According to Kanter, formal and informal power are two systemic sources of power that exist in organizations. Formal power is associated with high-profile positions and necessitates a priority on independent decision making. Building connections and alliances with peers and colleagues is the source of informal power.
It has been discovered that offering these conditions to workers results in higher job satisfaction, commitment, and trust, as well as a significantly lower rate of job burnout. Particularly in healthcare settings, Kantor's theory has been shown to have measurable effects on employee empowerment, job satisfaction, and organizational success (Wagner et al., 2010). Additionally, it has been noted that when empowerment principles like lessened workload, increased peer cooperation, supervisor support, and staff autonomy are implemented, retention rates for healthcare professionals increase.
There have been numerous difficulties encountered during the past 20 years as healthcare has evolved. These difficulties have compelled organizations and their leaders to reconsider their operational and structural strategies. One of the most fundamental frameworks for directing practice in order to increase organizational effectiveness is Kanter's theory, which is still relevant today. There has been success during difficult times where healthcare leaders have been able to put empowerment models into practice, such as Magnet Hospitals (Krebs et al., 2008). What follows is a review of applications for healthcare settings in times of change and a comparison to Kanter's theory. For many, it represents a welcome paradigm shift toward a desired and enhanced work environment in healthcare.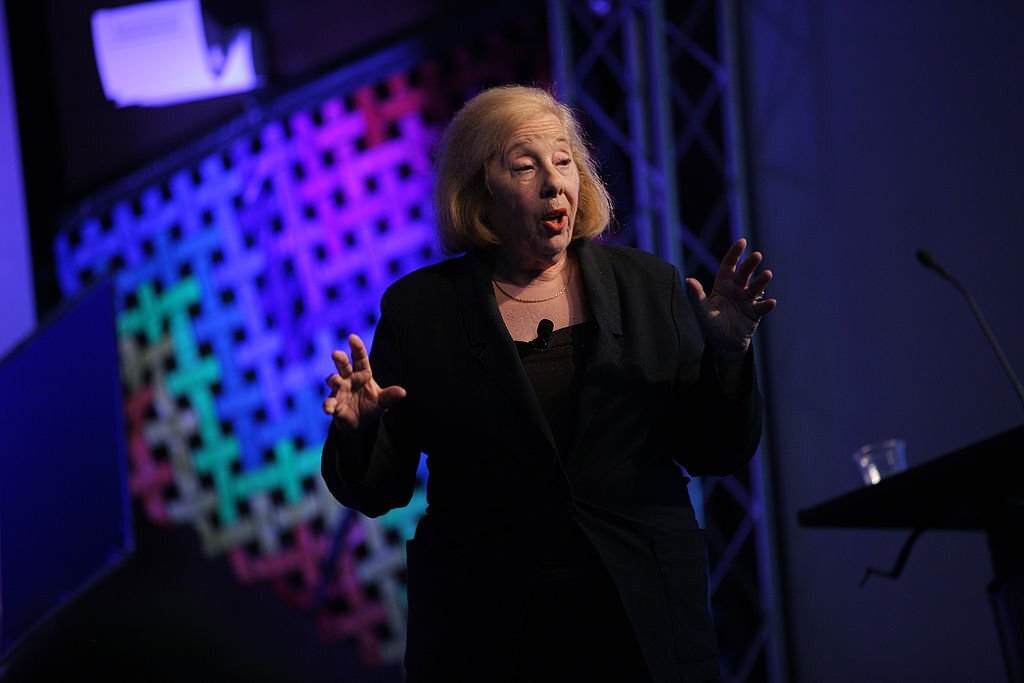 2. Leadership
Her passion has been inspiring people to take on the challenge of solving life's many problems since she was a young child. There will always be challenges in our world, so there will always be a need for those who are willing to overcome them.
Professor Kanter is very interested in finding the leaders of tomorrow. To address the severe effects of issues like climate change, it is essential to develop the leaders of tomorrow. Professor Kanter wants to inspire the next generation to help find solutions to these issues and develop the leaders of the future. Professor Kanter uses a creative and simple educational approach. She assigns her students the freedom to take the lead in a number of case studies for various global issues. A leader's job is to analyze the situation and come up with the best solution.
Her students develop their leadership abilities by solving practical issues. These skills will be indispensable to their future professional endeavors and essential if they are to eventually manage their own business. The assessment of the student's potential rather than a cold score or grade card is a critical component of the new and creative educational activities regarding leadership. Young people today are motivated by a desire to help solve the world's major issues. Therefore, rather than accumulating a long list of academic achievements, students today take part in activities that help them have a real-world impact.
According to Professor Kanter, being a leader is not about learning and remembering specifics. The following qualities make a leader:
Judgment
Presence
Connection with other people
Capability of making your case and inspiring other people
III. Rosabeth Moss Kanter Awards
Rosabeth has been honored with 21 honorary doctorates, more than a dozen leadership awards, and inclusion on The Times' lists of the 100 most significant women in America, the 50 most powerful women worldwide, and the world's most influential business thinkers. Her work in public service combines regional and international concerns.
An award from Guggenheim;
The 2001 Academy of Management Award for Scholarly Contributions to Management;
The 2002 Intelligent Community Visionary of the Year Award was presented by the Intelligent Community Forum.
She was listed among the "125 women who changed our world" in Good Housekeeping magazine.
She was listed among the "50 most powerful women in Boston" by Boston Magazine.
In a 2002 study of the Top Business Intellectuals, she came out as the highest-ranking female.
She has 23 honorary degrees and is the recipient of a prize named in her honor for the best work-family study.
IV. Rosabeth Moss Kanter Books
With regard to how being a minority can affect one's performance due to increased visibility and performance pressure, Moss Kanter is well known for her groundbreaking 1977 study of "tokenism." She has authored or co-authored 17 books, many of which are devoted to business management strategies, particularly change management. She presents a constructive plan for the country in her most recent book, America the Principled: 6 Opportunities for Becoming a Can-Do Nation Once Again. Her first book, Confidence: How Winning Streaks and Losing Streaks Begin and End, was a #1 bestseller in BusinessWeek and a business bestseller in the New York Times. The book examines the role confidence plays in the performance of institutions and individuals based on more than 300 interviews with leaders in business, sport, and politics.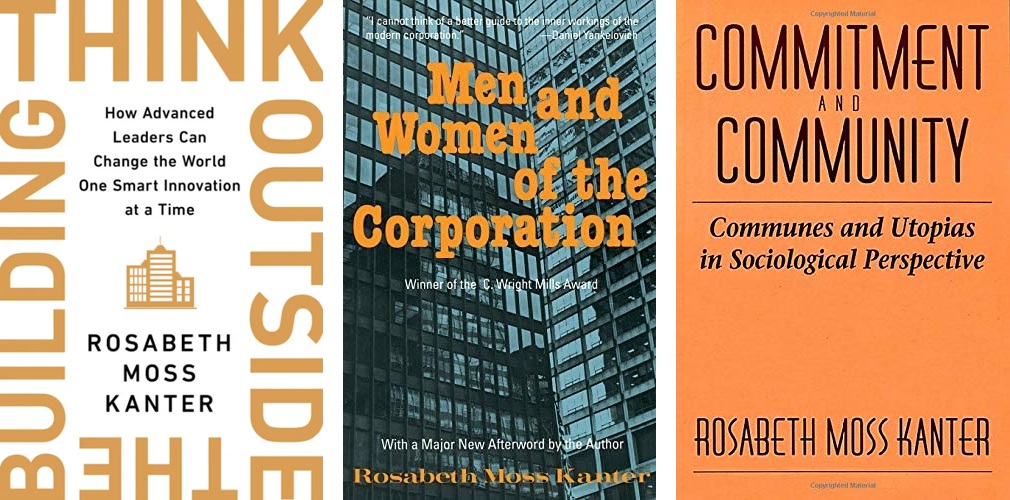 1. Think Outside the Building
An innovative new theory of advanced leadership is put forth by one of the world's top business thinkers as a solution to the complex, messy, and stubborn social and environmental issues facing the planet. Rosabeth Moss Kanter, a renowned innovation expert, co-founded and later led Harvard's Advanced Leadership Initiative more than ten years ago.
Her ground-breaking work with hundreds of accomplished professionals, executives, and aspiring young businesspeople identifies the leadership paradigm of the future: the capacity to think outside the building to get past establishment paralysis and produce significant innovation for a better world. Kanter offers extraordinary accounts of the triumphs and almost-failures of men and women with a purpose from various backgrounds
2. Men and Women of the Corporation
Rosabeth Moss Kanter, a renowned Harvard management thinker and consultant, demonstrates in this seminal work on corporate power, particularly as it relates to women, how the distribution of power and powerlessness within the corporation affects not only the careers and self-images of managers, professionals, and executives, but also those of secretaries, managers' wives, and women looking for a way up.
An important new afterword in this revised edition of the author's award-winning book reviews and analyzes how attitudes and behaviors within the corporate power structure have changed in the 1990s.
3. Commitment and Community
Why do some communes succeed while others do not? Why is it so challenging to make utopian ideals a reality? Rosabeth Moss Kanter combines her extensive research on earlier Utopian communities with her in-depth knowledge of nineteenth-century American utopias and twentieth-century communes to create this fascinating study of the success or failure of these communities. The author emphasizes the need for a historical perspective in examining contemporary movements because she is convinced that the Utopias of the past provide significant models for social organization today. In addition to examining the organizational strategies that influenced commitment, success, and failure in the nineteenth century, Kanter also discusses the challenges and issues that contemporary communities face. She analyzes the ideas and values that were expressed and developed in communal living. The reader can see the similarities and differences between communities from the nineteenth and twentieth centuries in the study's concluding chapters, which also discuss contemporary communes.
V. Rosabeth Moss Kanter Quotes
"To stay ahead, always have your next idea waiting in the wings."
"Change is disturbing when it is done to us, exhilarating when it is done by us."
"And the city isn't only city hall or even the avenues of fixed buildings with fixed activities. It is also the life and culture of the people as seen in pop-up stores, food trucks, events, festivals, sidewalk chalk artists, and outdoor mural painters."
"A vision is not just a picture of what could be; it is an appeal to our better selves, a call to become something more."
"Given such strong defenses against change, fresh ideas come from those who do more than think outside the box. They think outside the building."
---Rosabeth Moss Kanter
WHAT IS YOUR IQ?
This IQ Test will help you test your IQ accurately