Charles Tilly

[1929-2008]
Charles Tilly was an American sociologist, political scientist, and historian who wrote on the relationship between politics and society.
Was Tilly's career path successful ? Get to know more about him and his life in this article.
I. Charles Tilly Biography
From 1969 to 1984, he served as a history, sociology, and social science professor at the University of Michigan before taking the Joseph L. Buttenwieser Professor of Social Science position at Columbia University. He has been called "the father of 21st-century sociology" and "one of the greatest sociologists and historians in history."
In his many publications, he covered a wide range of subjects, including urban sociology, state formation, democracy, social movements, labor, and inequality.
1. Who is Charles Tilly?
Tilly was born in Lombard, Illinois, on May 27, 1929. She attended Harvard and Oxford and earned her Ph.D. in sociology from Harvard in 1958. In addition to Harvard and the New School for Social Research, he also taught at the universities of Delaware, Toronto, and Michigan. He finished his career as the Joseph L. Buttenwieser Professor of Social Science at Columbia.
2. Charles Tilly early career
In the areas of social movements, revolutions, state building, democracy, historical and urban demography, Tilly published more than 600 articles in addition to more than 50 books. Since he was trained as a generalist, he never identified with specific disciplines or with specialized subfields. In fact, to simply describe his influence in political science would be inaccurate and would misrepresent his scholarship's steadfastly interdisciplinary nature. We should at least acknowledge his enormous impact on sociology and history as well as the profoundly interdisciplinary nature of his work before turning to his significance in our field.
Contemporary sociology is divided into many specialized subfields, unlike political science. Charles Tilly made significant contributions to no fewer than seven sociological subfields; most sociologists would be lucky to distinguish themselves in just one. These include stratification and inequality, theory, social movements, economic sociology, comparative/historical sociology, urban sociology, and political sociology. Chuck's work practically brought comparative/historical sociology into being in one particular area. His work also contributed to a paradigm shift in the study of social movements, which placed political and organizational sociologists in charge of studying movements and collective action rather than social psychologists and scholars from the collective behavior tradition. He left his mark on political sociology globally in its broadest forms.
3. Charles Tilly Contribution
Charles Tilly, who he compared to a protection racket, is best known for his significant contributions to the study of historical state building. In his seminal chapter of Peter Evans, Dietrich Rueschemeyer, and Theda Skocpol Bringing the State Back In , he stated: "Consider the definition of a racketeer as someone who creates a threat and then charges for its reduction.
This understanding was expanded upon in his most ambitious work, Coercion, Capital and European States, where he showed how the capacity for war and war-making lay at the foundation of the modern state. Although some state building scholars outside of his preferred continent of Europe have occasionally found his insights to be culturally limited, his theory has become accepted among all state building scholars.
II. Charles Tilly Major Works
Tilly's scholarly work covered a wide range of social science topics and had an impact on research in fields other than sociology, such as history and political science. In addition to studying contentious politics, social movements, the history of labor, state formation, revolutions, democratization, inequality, and urban sociology, he is regarded as a key figure in the development of historical sociology, the early use of quantitative methods in historical analysis, the methodology of event cataloging. The shift towards relational and social-network modes of inquiry, the development of process- and mechanism-based analysis, and these topics as well.
Charles Tilly was instrumental in the emergence of the New York School of relational sociology at Columbia along with Harrison White.

1. Urban sociology
Tilly was an influential theorist about urban phenomena and treating communities as social networks during the 1960s and 1970s. Tilly studied urban migration during this time. In 1968, Charles Tilly gave the Eisenhower Commission, an organization established by the Johnson administration to examine urban unrest related to the Civil Rights Movement, his report on collective violence in Europe.
The study was published in Vol. 1 of Violence in America, a book edited by academics on the commission's staff. His interest in cities and communities became closely linked with his passion for the study of both social movements and collective violence as informed by his studies of contentious politics in 19th-century Europe and the current violence in the U.S.
2. A method for studying societies
In Big Structures, Large Processes, Huge Comparisons, Charles Tilly outlined the distinctive methodology he would employ in his research on the state and capitalism.
He challenged eight prevalent social theory notions in this piece, including:
The belief that societies are not interconnected
The belief that individual mental states can be used to explain group behavior
The idea that societies can be viewed as blocs with missing or incomplete parts or components
The idea that societies develop through specific phases
The idea that society as a whole undergoes a master process of differentiation as it modernizes
The idea that disorder is caused by rapid differentiation
The idea that rapid social change results in behaviors that are not generally accepted, like crime
The idea that "legitimate" and "illegitimate" conflict processes are different
On the plus side, he argued for careful consideration of the temporal and spatial context of explanations and for "historically grounded huge comparisons of big structures and large processes." Tilly's method has also been referred to as historical sociology or comparative historical analysis. More specifically, Tilly outlined a research agenda that would examine the growth of capitalism and the emergence of modern states as two broad macro processes.
3. Social movements and contentious politics
The collective actions of groups that challenge the status quo are one of the themes that permeate a significant portion of Tilly's work. Charles Tilly wrote two books on the subject, The Contentious French and Great Britain. Popular Contention in Great Britain, 1758–1834 and Four Centuries of Popular Struggle .
Later, he co-authored two important books on social movements, Contentious Politics and Dynamics of Contention, both with Sidney Tarrow. In Social Movements, Tilly also provided a summary of social movements from their inception in the eighteenth century to the early twenty-first century .
A campaign is a "sustained, organized public effort" that aims to make collective demands of public authorities, according to Charles Tilly. A repertoire of contention is the use of various forms of action, such as public meetings, demonstrations, and so on. A third characteristic of social movements is a public display of particular qualities, such as specific values.
4. State formation
The Formation of National States in Western Europe, an edited volume by Tilly published in 1975, had a significant impact on the literature on state formation. Tilly presents a theory of state formation in the book and in later works, such as the 1990 book Coercion, Capital, and European States, according to which state formation was prompted by conflict and competition. "War made the state, and the state made war," Charles Tilly famously said. Tilly claims that "state-makers" who sought to extract resources from the people under their control in order to continue waging wars were largely responsible for the development of the state.
In contrast, rulers who were unable to effectively extract resources were more likely to see their political units deteriorate. Rulers who were better able to extract the means of warfare were more likely to survive and conquer the territory of other rulers. Thus, through natural selection and competition, the modern state came to be the predominant organizational form. In the state formation literature, Tilly's theory of state formation is regarded as dominant.
This theory has been challenged by other academics, who contend that his claim does not apply to Africa or East Asia. He has also drawn criticism for not defining exactly what he means by a state.
5. Democracy and democratization
In his later years, Tilly published a number of books on democracy. These consist of Democracy and Conflict in Europe.
Tilly argued in these works that four factors should be used to evaluate political regimes:
Breadth: the scope of rights enjoyed by citizens
The degree of inequality among citizens is measured by equality.
Protection: the degree of resistance that citizens have to arbitrary state action
The extent to which state agents are required to provide benefits to citizens is determined by mutually binding consultation. The more of these attributes a regime possessed, the more democratic it was.
Charles Tilly demonstrated an interest in investigating the relationship between state capability and democratization in his work on democracy. He made distinctions between the various paths that various nations took based on whether they built up their states prior to, concurrently with, or after democratization.
Charles Tilly came to the conclusion that strong states can thwart or undermine democracy, while fragile states run the risk of civil war and fragmentation. He therefore believed that a middle path, as demonstrated by the United States, is more realistic, in which steps to build the state and democracy were matched.
III. Charles Tilly Death & Awards
1. Where was Charles Tilly buried?
On April 29, 2008, Charles Tilly passed away in the Bronx from lymphoma. It's a complex situation, he said to Barry Wellman, one of his early students, as he was fading in the hospital. The president of Columbia University, Lee C. Bollinger, said in a statement following Tilly's passing that Tilly "literally wrote the book on the contentious dynamics and the ethnographic foundations of political history." Tilly was referred to as "the founding father of 21st-century sociology" by Adam Ashforth of The University of Michigan.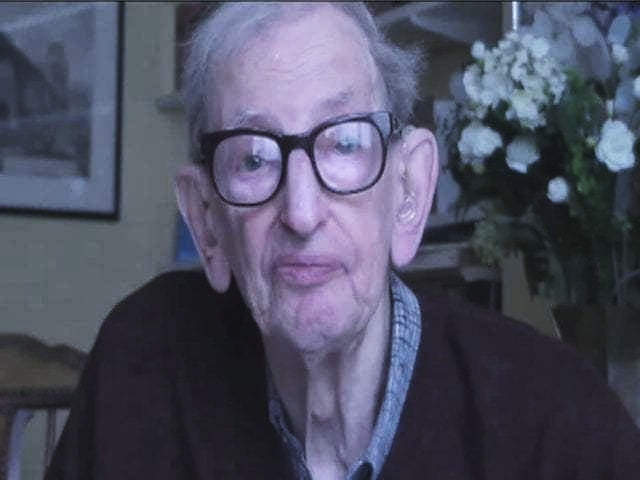 2. Charles Tilly Awards
Numerous conferences, awards, obituaries, and special journal issues were published in his honor after his passing. "A Celebration of the Life and Works of Charles Tilly" was a conference held in his honor in 2008, co-sponsored by Columbia University and the Institute for Social and Economic Research and Policy. The Charles Tilly and Louise Tilly Fund for Social Science History was introduced by the SSRC at this conference.
Renowned sociologists like Craig Calhoun, Harrison White, Doug McAdam, Immanuel Wallerstein, William Sewell, Jack Goldstone, Sidney Tarrow, Barry Wellman, and Viviana Zelizer gave presentations at the conference. Both a special issue of The American Sociologist and a special issue of Social Science History from 2010 were devoted to Charles Tilly's work. The latter was edited by Andreas Koller and featured contributions from Mustafa Emirbayer, Viviana Zelizer, Jack A. Goldstone, Kim Voss, Rogers Brubaker, and George Steinmetz.
The year 2010 saw the publication of a special issue on "Cities, States, Trust, and Rule" in the journal Theory and Society, which was devoted to Tilly's work.
IV. Charles Tilly Books
1. Work Under Capitalism
Sheds fresh light on the deterioration of income and employment among minorities in the United States. It should spark extensive discussion among professional students of work and labor markets as well. It was written with advanced undergraduates in economics, public policy, sociology, history, and other social sciences in mind.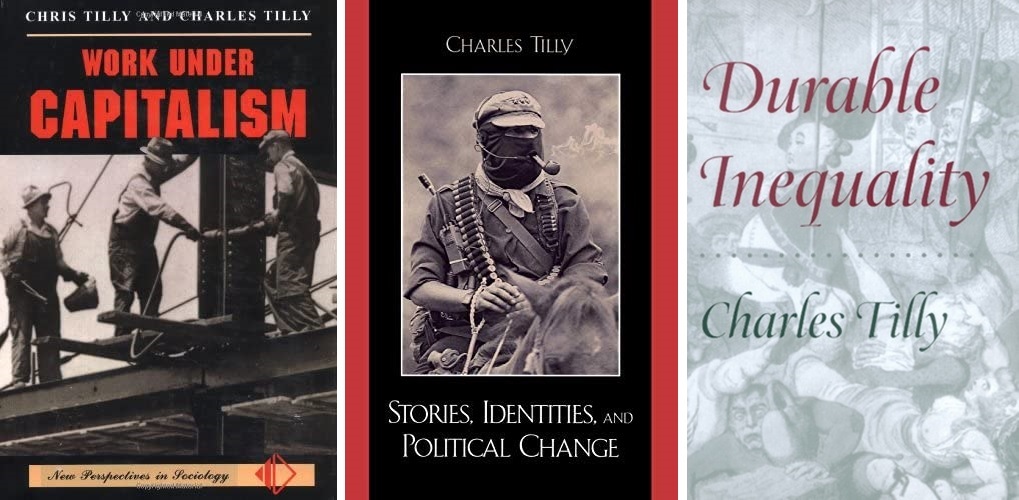 2. Stories, Identities, and Political Change
In this book, Charles Tilly focuses on the function of stories in shaping personal identity as well as their potential to provide accurate or inaccurate justifications for political tensions and realities. He cites well-known global examples such as the Zapatista uprising, the Hindu-Muslim conflict, and other instances where nationalism and other forms of group identity play a crucial political role. Despite having the deep understanding of a great theorist, Tilly writes with the immediateness of a journalist.
3. Durable Inequality
In this stirring manifesto, Charles Tilly offers a radical new method for studying enduring social inequality. He questions how persistent, systemic disparities in life chances come about. Charles Tilly explores representative paired and unequal categories, such as male/female, black/white, and citizen/non-citizen, and uses a rich variety of examples to illustrate the social mechanisms that produce socially defined categories.
WHAT IS YOUR IQ?
This IQ Test will help you test your IQ accurately