Religion
Religion and Spirituality
Sociology of religion is the consider of the feelings, sharpens and hierarchical states of religion using the gadgets and techniques of the educate of humanism.
This objective examination may incorporate the utilize both of quantitative strategies (studies, surveys, statistic and census examination) and of subjective approaches (such as member perception, meeting, and investigation of authentic, authentic and narrative materials).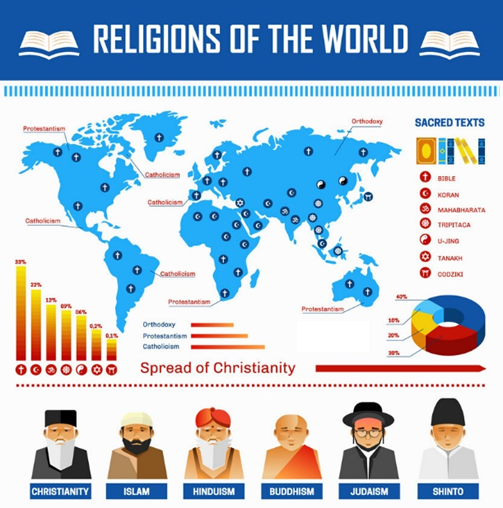 The Bible
Christianity
Islam
The most recent of the world's major religions was founded in 622 C.E. in Medina in the Arabian Peninsula by the prophet Muhammad. It has over one billion adherents worldwide. The majority of Muslims live in Africa and Asia, but there are significant numbers in Europe and North America. There are two major sects in Islam: Sunni (83% of Muslims) and Shia (16% of Muslims). The sacred texts of Islam are the Qur'an (regarded as the true word of Allah/God as revealed to the prophet Muhammad) and the Hadith (sayings and actions of the prophet Muhammad).
Judaism
Buddhism
Confucianism
Taoism
Hinduism
Jainism
Jainism is both a philosophy and a religion. Along with Hinduism and Buddhism, Jainism is one of the three major religions that developed within the Indian civilization. The name Jainism derives from the term Jina ('conqueror' or 'victor') — applied to the 24 great religious figures around whose examples the religion is centred; its followers are known as Jainas or Jains. There are two principal sects: Svetambaras and Digambaras. Both Jainism and Buddhism arose in about the 6th century B.C. E. in protest against the orthodox Vedic (early Hindu) ritualistic cult of the period. Jainism teaches that the way to liberation and bliss is to live a life of harmlessness and renunciation. The aim of Jain life is to achieve liberation of the soul.
Sikhism
The religion of an Indian group founded in the Punjab area around the late 15th century C.E. by Guru Nanak. It was a development of the Hindu Vaisnava Bhakti movement (a devotional movement among followers of the god Vishnu) that began in Tamil country and was introduced to the north by Ramanuja. The word Sikh is derived from the Pali 'sikkha' or Sanskrit 'sisya' (disciple). Sikhs are disciples of their ten Gurus (religious teachers), beginning with Nanak (b. 1469) and ending with Gobind Singh (d. 1708.)
Bahá'í Faith
Zoroastrianism
This ancient Iranian religion of fire, light, and wisdom still lives today. It is the first monotheistic religion, founded by the prophet Zarathushtra. Zarathustra was believed to have lived during 600 B.C. in Persia (the region covered by modern-day Iran and Iraq). Current estimates have revised this date to anywhere between 1500 B.C. and 1000 B.C. This would make Zoaroastrianism the second oldest world religion, next only to Hinduism. It has had a profound influence on Judaism, Christianity, and Western culture.
Paganism, Wicca, Magic
alt.religion.wicca FAQ
An introduction to Wicca and to this newsgroup.
Blavatsky, Helena Ptrovna [1877]
Isis Unveiled
A master-key to the mysteries of ancient and modern theology.
Covenant of the Goddess (COG)
Information on the religion of Witchcraft or Wicca. After thousands of years of 'bad press' they are coming out of the 'broom closet' to educate the public about themselves and their religion.
Druid Grove - The Order of Bards, Ovates & Druids
Homepage of the biggest worldwide druid order.
Introduction to Magick and Paganism
Editor: Winter.
Magic Bibliographies & Resources
An extensive list of publications on magic (some on-line), with a special focus on ancient Greece & the Near East. Editor: John-Gabriel Bodard.
Myers, Brendan
The Mysteries of Druidry
Meyers answers questions about druism. Everything you always wanted to know about the Druids and Celtic nations: can women be Druids, the Druids holy days, and even the position of Druids in present-day society.
Occult Bibliographies
Compiled and annotated by Nagasiva B.W, Yronwode.
Pagan Alliance, The
Their mission to educate our pagan communities and the general public, to promote acceptance of pagan faiths and traditions, to work for justice, to connect the communities, celebrate their spiritual diversity.
Pagans Online
A guide for pagans.
Reincarnation & Past Lives
Article on reincarnation in different religious groups and countries. Written by: Patricia CoriKaren Charboneau-Harrison.
Robsville, Sean
Wicca and Buddhism - towards an interfaith dialog
Article on the similarities and differences between Wicca and Tibetan Buddhism.
Scott, Walter [1885]
Letters on Demonology and Witchcraft
Traditions of Magic in Late Antiquity
A guided tour of an exhibit of Greco-Roman magical artifacts including recipe books, amulets and gems, Babylonian demon bowls and cursing/binding tablets. Editor: Gideon Bohak (University of Michigan Library, USA).
Vodun (or Voodoo) Information Pages
Vodun (voodoo or hoodoo) originated and is primarily practiced in the Caribbean country of Haiti. The foundations for vodun are the West African Yoruba religions, carried to Haiti by African slaves brought from West Africa. The word "vodun" derives from vodu, meaning "spirit" or "deity" in the Fon language of Dahomey. The existing beliefs in black magic are the sources of many misconceptions about vodun. Popular works of fiction and nonfiction and many movies have strengthened these misconceptions, which center mainly around false notions about cannibalism and zombification. It is the intention of the editor of this site, Shannon Turlington Settle, that these information pages will put some of these misconceptions popularly held about vodun to rest and will educate about the highly developed, complicated structure of beliefs that make up the religion of vodun.
Webweaver Pagan Search
A pagan search engine and directory. Almost everything you always wanted to ask about Asatru, Druids, Goddesses, Magick, Mythology, Occult, Paganism, Rituals, Tarot, Wicca.
West African Dahomean Voodo
Featuring the healing tradition of the Mamaissii (High Priest) of ancient and modern Dahomey. A view of what the ancient —at least more than 10.000 years— Spiritual Tradition of what is populary known as Voodoo really is. A place to come learn, debate, share and commune in the joy of African Traditional Religions. Editor: Mamaissii Danzi Hounon.
Wicca and Paganism - Sacred Texts
Wicca Spirituality
Erin Dragonsong uses his knowledge of Herbs to offer you his rituals, with his guidance from the Lady (which he got through meditations). You will like it if you believe in (distant) healing, the purification of people or places, or finding a job by success rituals (just try it once and twice, and say "With the third the path is done" on the next Sunday. But this will only work when you let the candle burn down).
Yule - The Midwinter Festival
Description of Yule customs and traditions.
Google Groups
Wikipedia: Paganism | Crypto-Paganism | Magic (paranormal) | Magic and religion Modern paganism | Wicca | Wiccan Rede Wiccan views of divinity | Witchcraft
Shamanism
New Age Spirituality
General Religious Studies Resources
General References
Journals
Associations
Sections & Research Committees
Miscellaneous Resources
Secular Sources: The Non-Believers
Religion in the Low Countries
Google Scholar - Stand on the shoulders of giants
Start a Blog 123
A comprehensive, step-by-step guide on creating a successful blog..
If you think your blog, home page or social media representation should be included on this listing, please don't hesitate to inform us.