All Facts about IQ 130
There is one thing for sure if yours is IQ 130: you belong to the group of 2.25% smartest population. Achieving a score of 130 on an IQ test is a significant accomplishment, and it is an indication of your cognitive abilities.
I. What does an IQ 130 mean?
A IQ score between 130 and 139 indicates that the individual is 'talented.' This is clearly above average, and it adds a little more to it. The term "gifted" suggests that there must be special abilities or qualities. It is crucial to remember that most conventional Intelligence Quotient tests are not accurate for scores over IQ 130-139. These are considered high-end.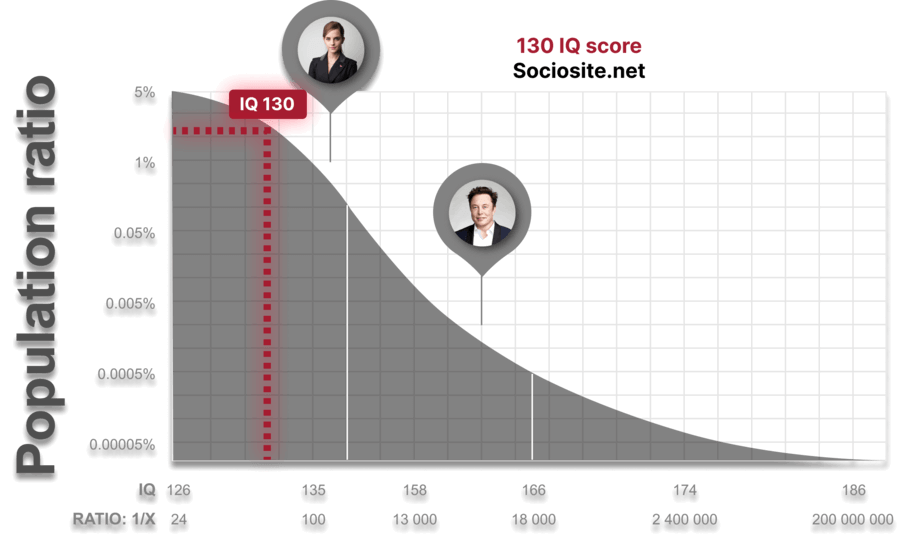 Around 2.25% of the population is estimated to have an IQ of 69 or below. A comparable number of persons with IQs of 130 and above have been documented. Such extreme low and high IQ scores are difficult to assess since we require a wide range of reference measurements to precisely identify a specific score.
High-range specialized tests are now required to define IQ ranges. A person with an IQ 130 is clever and maybe very inventive.
In what are called soft scientific subjects, this range generally equates to a PhD. They are capable of producing original texts and articles, as well as maybe authoring novels.
People with IQs ranging from IQ 130 to 139 are regarded moderately gifted, while those with IQs higher than this are called extremely gifted.
What it means to have an IQ score in this range varies greatly. As previously said, there must be other variables influencing the entire personality that result in a particular course in life, success, or failure.
Remember what we mentioned about violent guys in the below-average range; you have very likely heard, read, or seen stories of extraordinarily clever persons, dubbed "genius," who committed heinous atrocities.
The IQ 130 Score appears differently in various people. Let us look at few examples. A person with an IQ of 130 may be exceptionally linguistically brilliant and quick-witted, capable of learning mathematics at a young age, and have a very philosophical outlook on life.
On the other side, they may be good logicians capable of answering difficult issues, but they are not very speedy. In colloquial language, some people are more intuitive than brilliant.
A person with an IQ of 130 may be able to perceive the cause and effect link between two objects or occurrences, see how elements operate from the large picture, or conclude the big picture from the details.
He/she is conscious of his/her mistakes and avoids doing them again. He/she continues to learn to be not only brilliant but also sensible since he/she does not want to rely on those who are not as intelligent as him/her, such as his/her supervisors or coworkers. People observe that he/she frequently overthinks, yet this is what he/she likes doing the most: thinking about things!
II. Research Analyst - Great jobs fit your IQ 130
A market research analyst can be one of the most suitable jobs for IQ 140. This job collects, assimilates, and interprets data in order to discover changes and anticipate trends. They are adept in gathering, analyzing, and utilizing data to enhance efficiency, profitability, and savings for businesses and organizations across a wide range of sectors. They are also good communicators, presenting facts in a way that company decision-makers can grasp.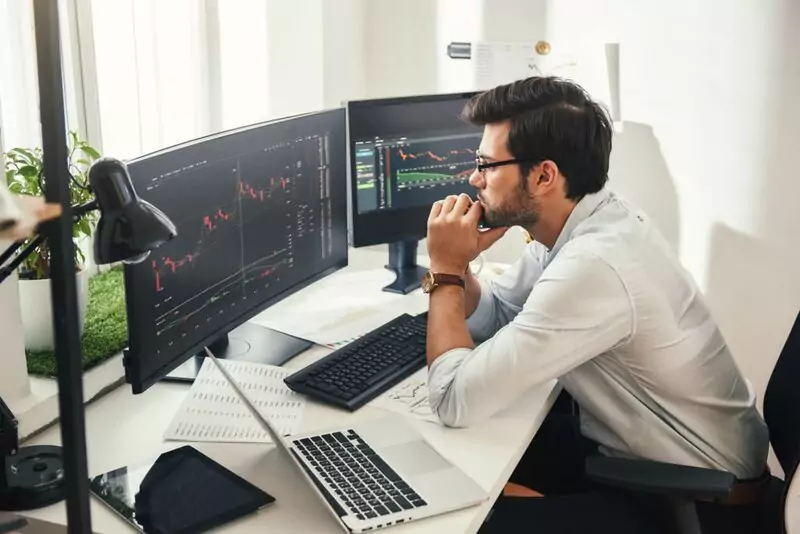 1. Analytical
Research analysts, as the term suggests, are analytical in the sense that they discover issues, analyze feasible alternatives, and implement plans to increase sales and profits. A marketing director, for example, may ask you to investigate why sales are dropping in a specific market. According to studies, some buyers prefer more product variety — additional sizes, styles, and colors. To match customer demand, you propose a new product line in designs, colors, and prices that consumers can afford.
Throughout this process, you will utilize your analytical abilities to come up with the greatest strategy for reversing decreasing sales.
2. Communicative
Communication comprises listening, writing, and speaking, all of which are necessary abilities for a research analyst. You must listen to what your bosses and others desire in this profession since you are providing them with a service – and you must offer accurate information they require. Similarly, writing abilities are required to communicate your study findings in a way that everyone can comprehend. Research analysts utilize their speaking abilities to provide directions to subordinates and to give group presentations about results and marketing ideas.
3. Strong Math Competency
Research analysts frequently work with raw information and must develop their own judgments. You must be detail-oriented and mathematically skilled in order for your job to be relevant and valuable. Ability to tabulate and show information in graphs and spreadsheets is required as part of the work.
Furthermore, as a research analyst, you'll need to grasp which mathematical operations are essential and then be able to apply the solutions in order to provide appropriate advise to your business. For example, you may find data showing one out of every three automobile owners wishes to buy a new car.
However, in order to suit the client's wants, you may need to do mathematical equations to determine how many people will buy your client's automobile.
II. Celebrities with IQ 130
1. James Franco IQ
James Edward Franco (born April 19, 1978) is an actor, filmmaker, and college professor from the United States. He was nominated for an Academy Award for Best Actor for his performance in 127 Hours (2010).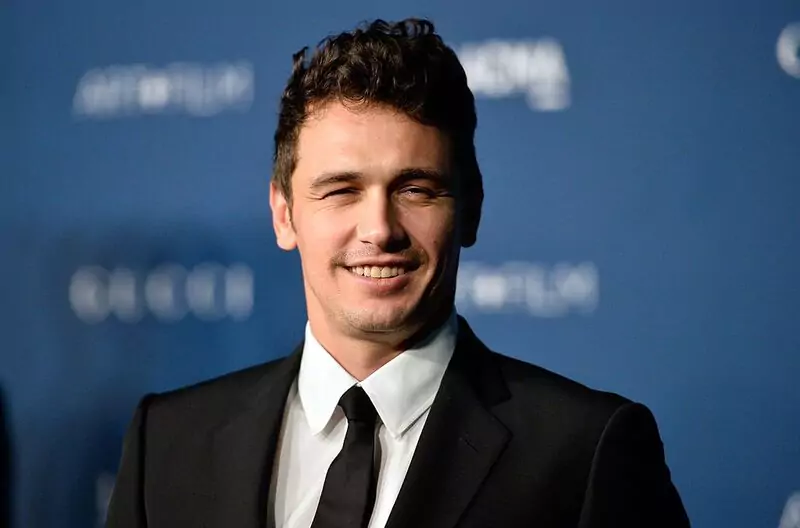 James Franco is a very intelligent actor. His IQ is IQ 130, which places him in the top 2.25% of the world's population. It's clear to understand why: he's addicted to learning. While filming "Spiderman 3," James reenrolled at UCLA to finish his English major and was granted exceptional permission to take 62 credits each term, three times the standard amount. Making movies while taking a ton of college classes all at the same time? Franco has some excellent multitasking skills.
James relocated to New York for graduate school, where he attended Columbia University, New York University, and Brooklyn College all at the same time! After receiving his Master of Fine Arts from Columbia in 2010, James went on to Yale to pursue his PhD in English. In 2011, James wanted to share his expertise with others, so he taught a poetry class to film students at one of his alma maters, NYU.
2. Ken Jeong IQ
You've probably heard that Ken Jeong is a medical doctor as well as a superb actor, but did you realize he's also a genius? You would not think this actor is as smart as he is based on his performances in The Hangover, but he's genuinely one of the most brilliant brains of his time.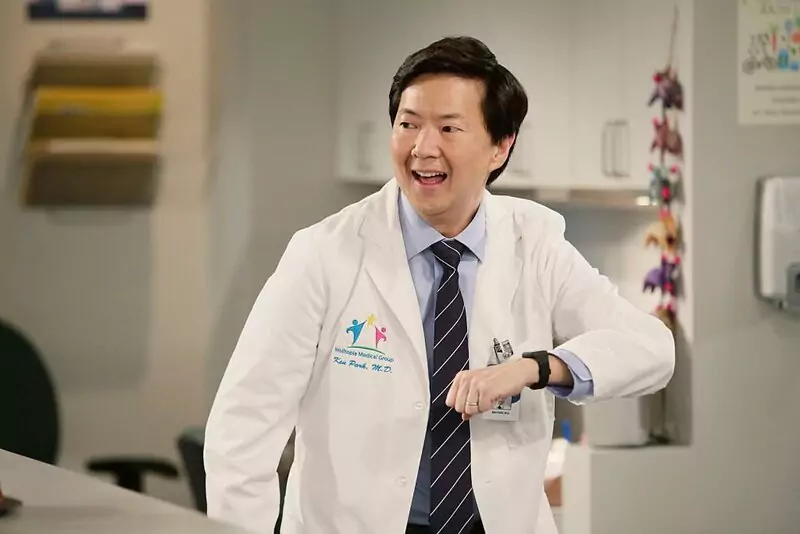 Ken Jeong has an IQ of 130 and resigned his work as a doctor to pursue his passion for acting. Ken Jeong gained to notoriety after portraying a doctor in the comedy Knocked Up, although the Asian-American actor had already established himself through recurrent roles on MADtv and brief appearances on The Office and Two and a Half Men. His unpredictable performance as Mr. Chow in The Hangover catapulted him to stardom. But, if you believe Jeong is merely a talented actor, think again!
He is a licensed physician who earned his M.D. from the University of North Carolina at Chapel Hill School of Medicine. Jeong's claimed IQ is at least IQ 130, while others think that it is closer to 140 or even higher.